The Ultimate Minivan Safety and Security Features at Kelowna Chrysler Dodge Jeep in Kelowna, BC
The Ultimate Minivan Safety and Security Features at Kelowna Chrysler Dodge Jeep in Kelowna, BC
Posted on August 21, 2020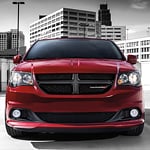 Looking for Style Edge class and overall safety? Look no further than the Dodge Grand Caravan. Here at Kelowna Chrysler Dodge Jeep in Kelowna, BC, you can find a large selection of family-friendly minivans to suit your needs. The Dodge Grand Caravan is one of them. Chock full of safety features, this vehicle can get you where you need to be and safely.
One of the ways that Dodge strives to keep you safe on the road is by equipping its Grand Caravan with helpful security features such as the all-speed traction control which keeps your wheels straight and aligned, even on the most difficult road conditions. As a result, you can drive safely and know that your loved ones are riding securely, as well. In addition to the all-speed traction control, the Dodge Grand Caravan also offers multi-stage airbags that are positioned in key locations to lessen the severity of incurred injuries as a result of an accident.
In summary, the Dodge Grand Caravan is a minivan that offers more than just style and class. It also offers reassurance and safety, so you can go about your day feeling more confident and secure than ever.
Find Your New Dodge Grand Caravan Today! Click Here to Browse Our Inventory.